SEO Manager
Thank You For purchasing SEO Manager.
Note: All The Images which include in the package are only for demo purpose, you can't use this furthur. if you want any third Party assets like PSDs you can get on request at info@webxitsolutions.com. If you have any Query, Issue or Suggestions feel free to contact us via our live support Webx IT Solutions or email us at support@webxitsolutions.com.
Installation
For 3x Versions
1. Unzip the downloded Zip file.
2. Upload seomanager.ocmod.zip files via Opencart admin -> Extensions -> Installer using the Upload button.
3. When zipper file is uploaded, Go to Admin -> Extensions -> Modification -> click the Refresh button in the top right corner.
4.Assign Permission to your User Group.
5. A menu of SEO Manager display on left Menus.
6. Now SEO Manager is installed. Congratulations!

For 2x Versions
Manual Installation Via FTP
1. Connect to you server via FTP or log into cPanel file manager. Open OpenCart Root folder
2. Extract seomanager.ocmod.zip.
3. Upload Files which is available under the ' Upload ' folder which you recently extracted.
4. Rename install.xml file to seomanager.ocmod.xml.
5. Now Go to Admin -> Extensions -> Modification -> click the Refresh button in the top right corner.
6. Assign Permission to your respected user group.
7. A menu of SEO Manager appear on left Menus.
8. Now SEO Manager is installed. Congratulations!

Settings
SEO Report
Seo Report helps you to determine the status of your store SEO rank.
Seo Links and Urls
Seo links percentage works as per the seo url of the products, manufacturer, categories, and information.
Product Content
Product Content show the percentage of products's Meta Title, Meta Description and Meta Keywords status.
404 Pages
Percentage as per the 404 link / not found pages in your store.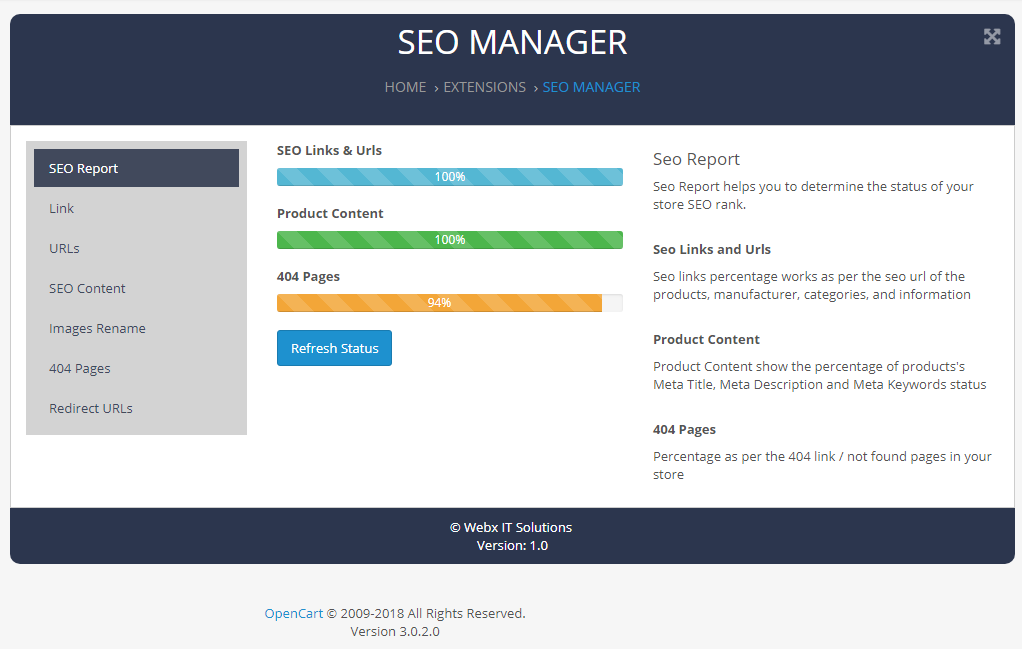 SEO Links
With SEO Links Generator you can easily add multi language links (automatically) for Products, Categories, Manufacturer and For Information Pages.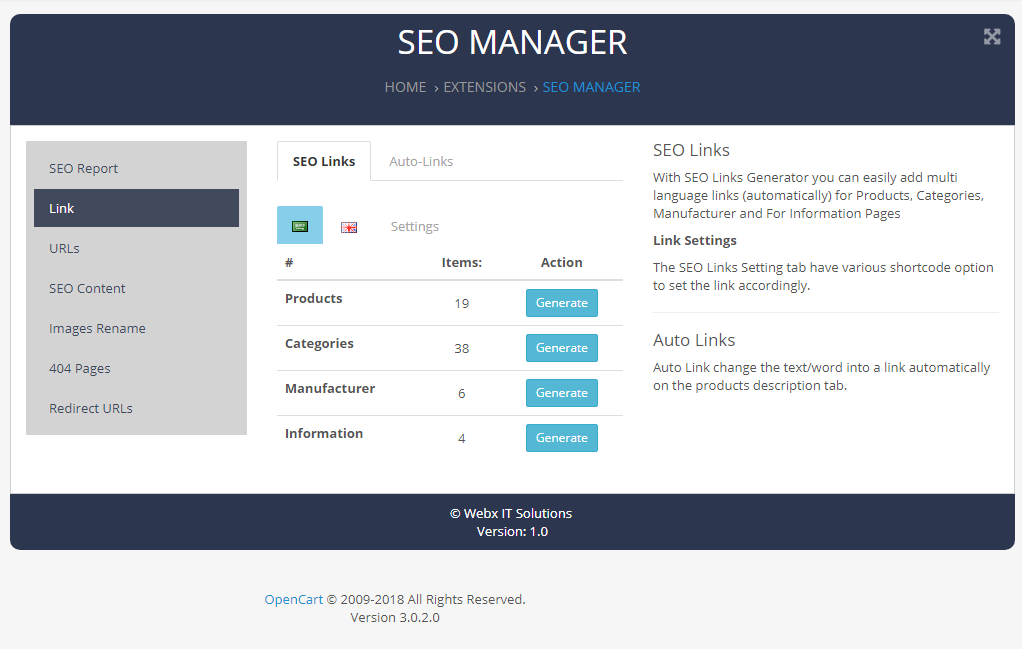 Link Settings
The SEO Links Setting tab have various shortcode option to set the link accordingly.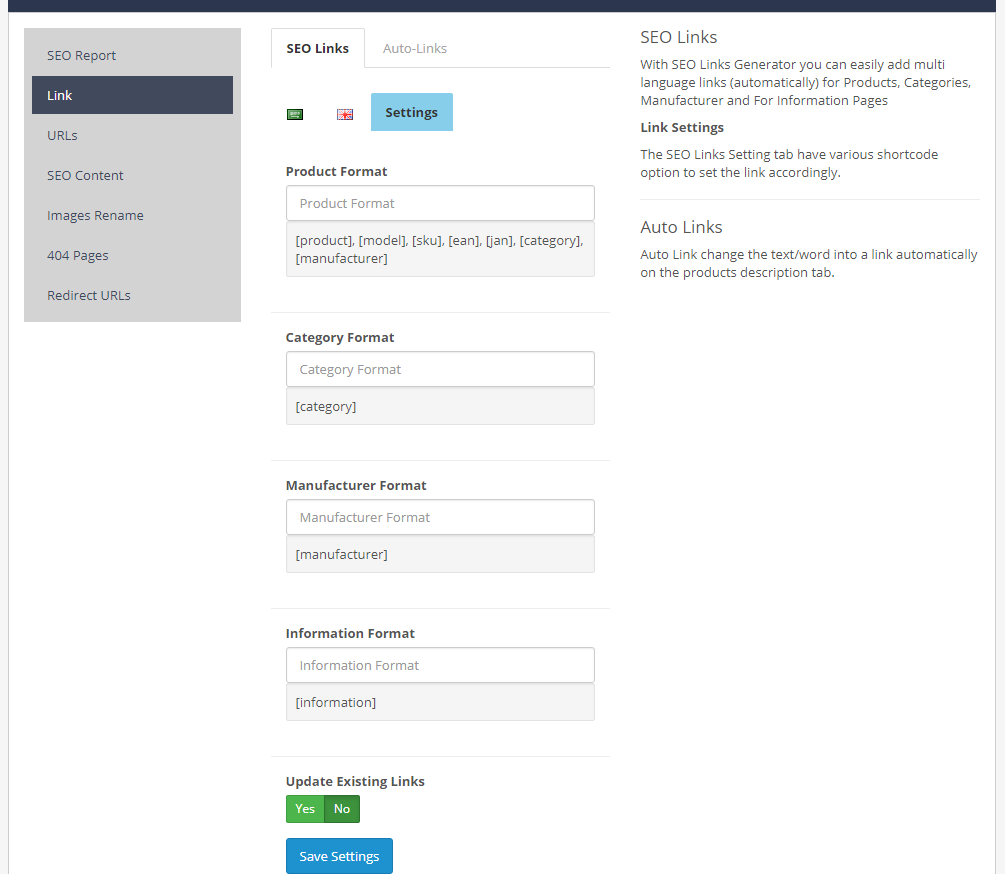 Auto Links
Auto Link change the text/word into a link automatically on the products description tab.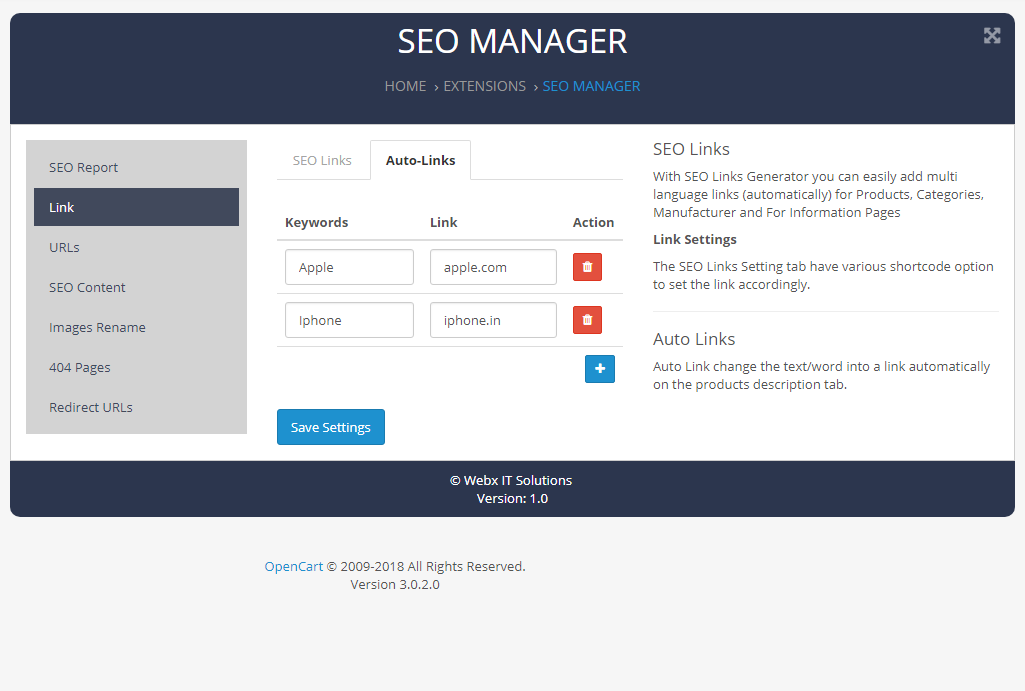 Custom URLs
Custom urls refers to change the link of the default opencart link to seo friendly urls. One of the most basic search engine optimization techniques is in using SEO-friendly URL structures. A good structure can help the indexation process of your website.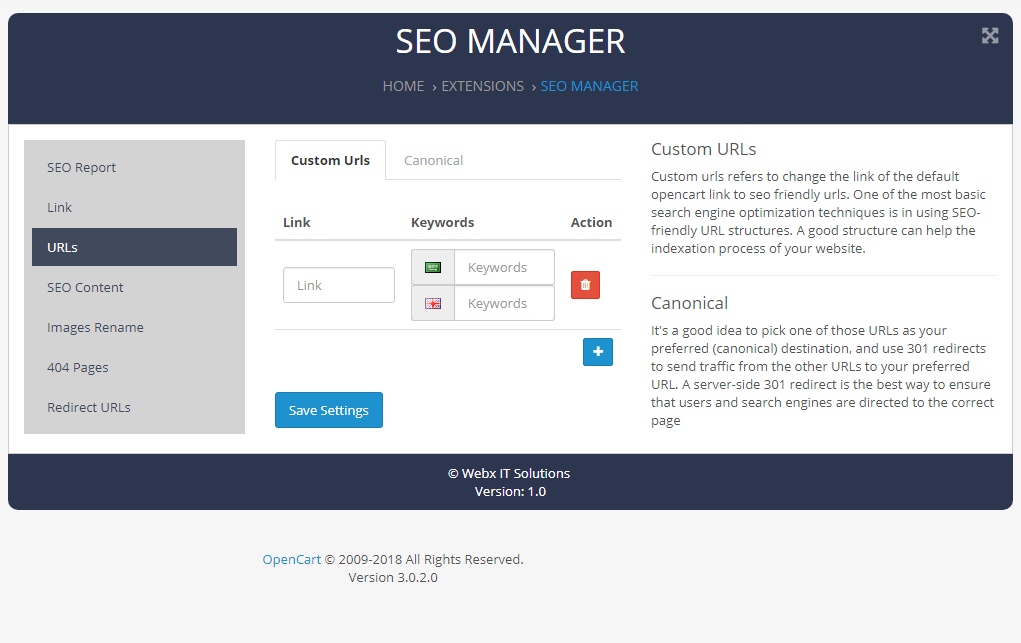 Canonical
It's a good idea to pick one of those URLs as your preferred (canonical) destination, and use 301 redirects to send traffic from the other URLs to your preferred URL. A server-side 301 redirect is the best way to ensure that users and search engines are directed to the correct page.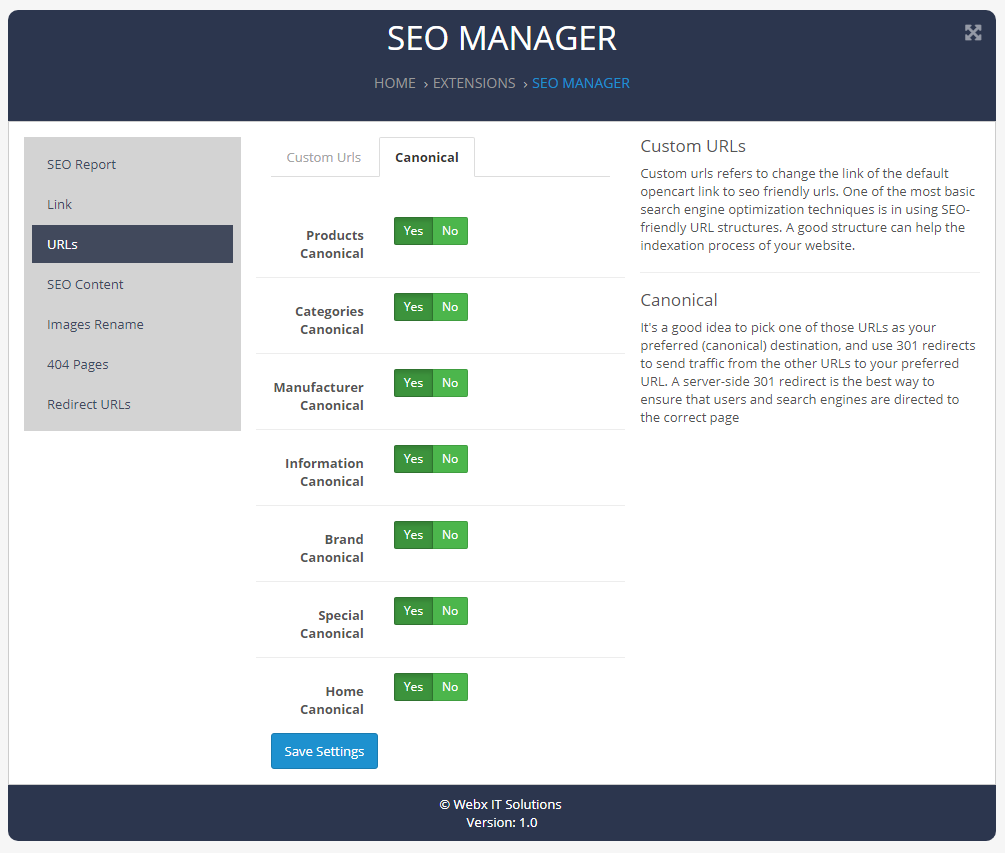 SEO Content
Meta Titles
The meta title is a title you give your webpage within the meta tags so that when a person sees a link to your page from the search engine it has a title to go with it. It is also visible at the top of the page tab in many web browsers and is saved as the title of a bookmark if a user saves it.
Meta Description
The meta description is a 160 character snippet, a tag in HTML, that summarizes a page's content. Search engines show the meta description in search results mostly when the searched for phrase is contained in the description. Optimizing the meta description is a very important aspect of on-page SEO
Meta Keywords
The most important thing to keep in mind when selecting or optimizing your meta keywords is to be sure that each keyword accurately reflects the content of your pages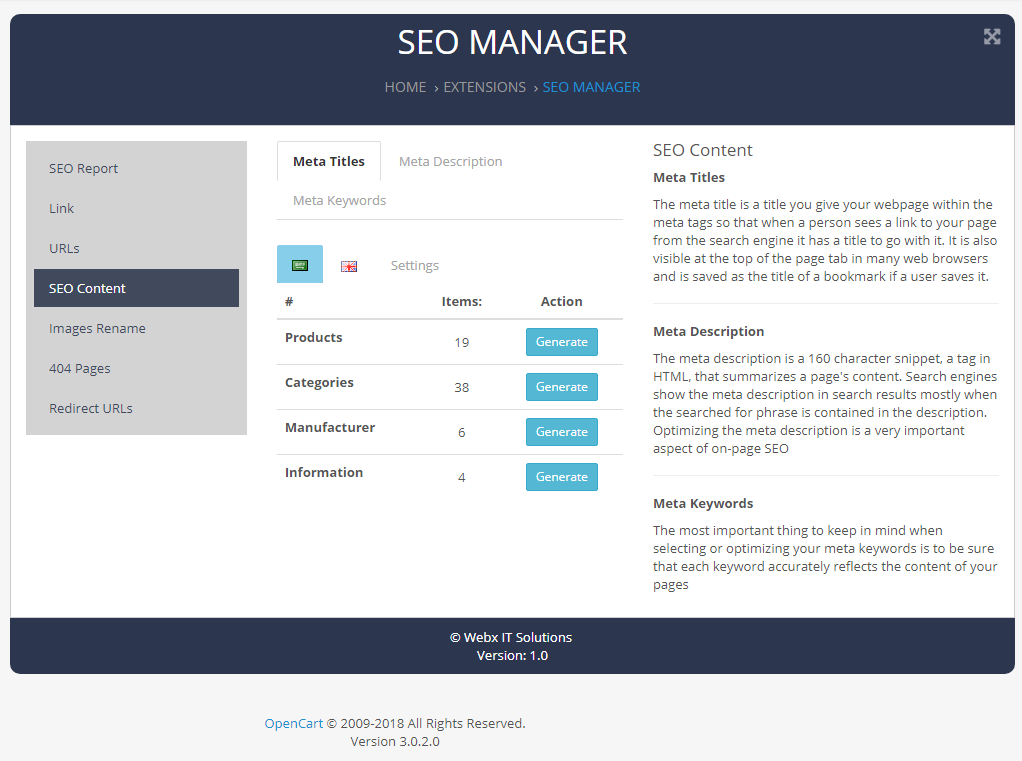 Image Rename
Image SEO starts with the right file name. Of course, this is the first location to use that keyword. Without even looking at the actual image, you want Google to know what the image is about. It's simple: if your image is a sunrise in Paris showing the Notre Dame, the file name shouldn't be DSC4536.jpg, but notre-dame-paris-sunrise.jpg. The main keyword would be Notre Dame, as that is the main subject of the photo, that is why I added that at the beginning of the file name.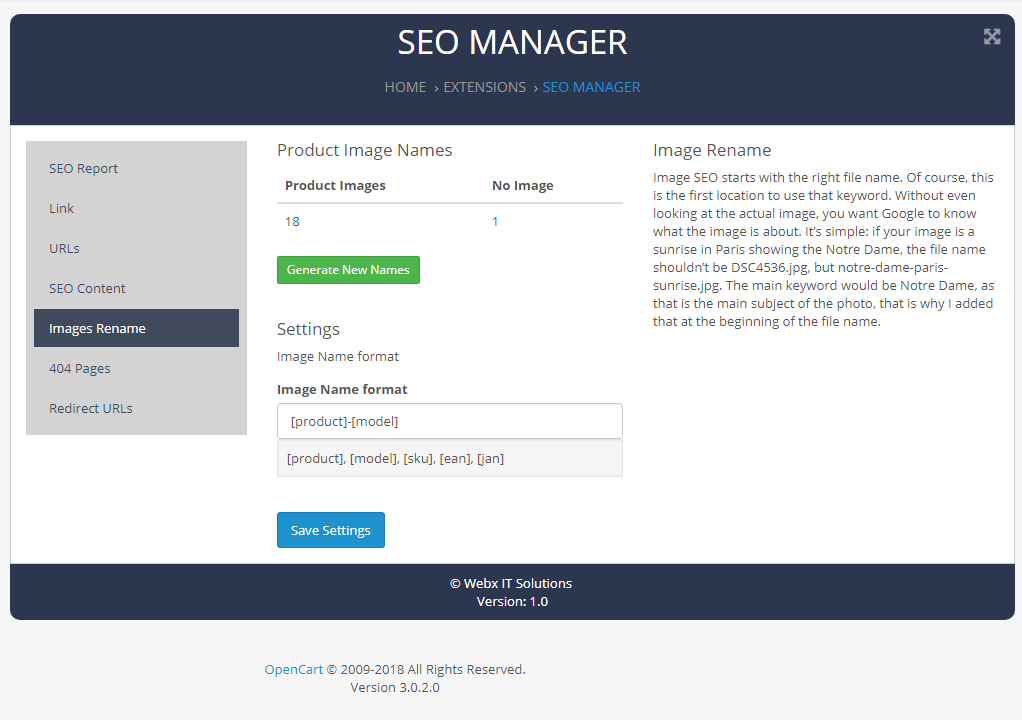 404 Pages
This section help you to find the broken link of your site and how many visitors visit theses pages. 404 is recognised as bad SEO and it was affect on the sales of the store.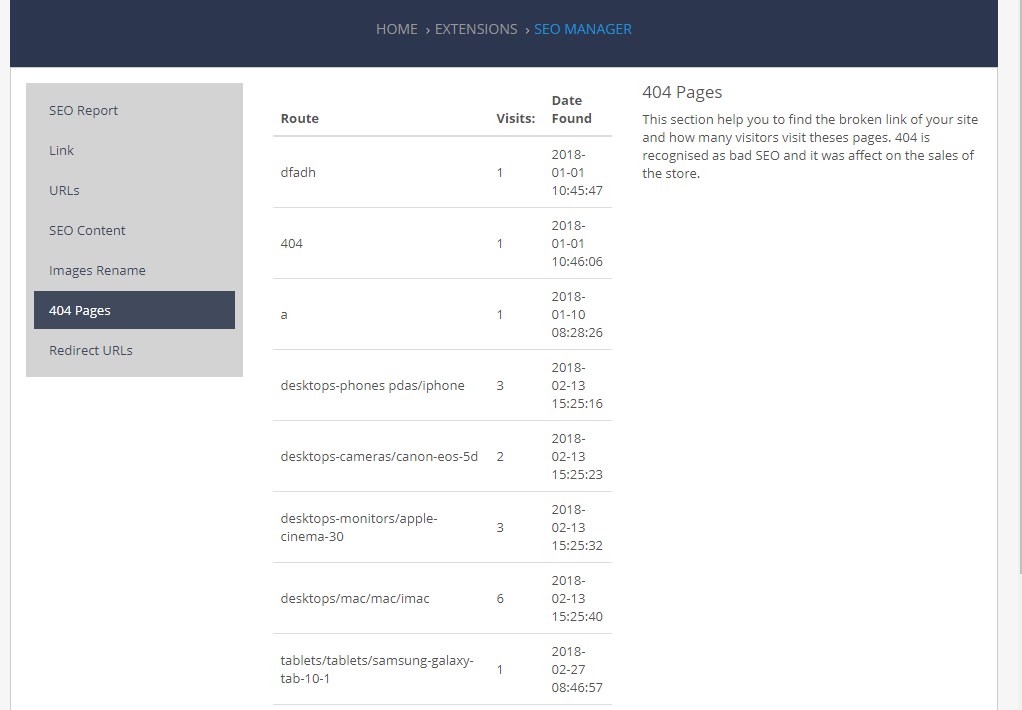 Redirect URLs
Redirect Url help you to redirect customers to another page. sometime we have previous blog which we already posted on many sites and need to change the another page then we are able to use this section of extension.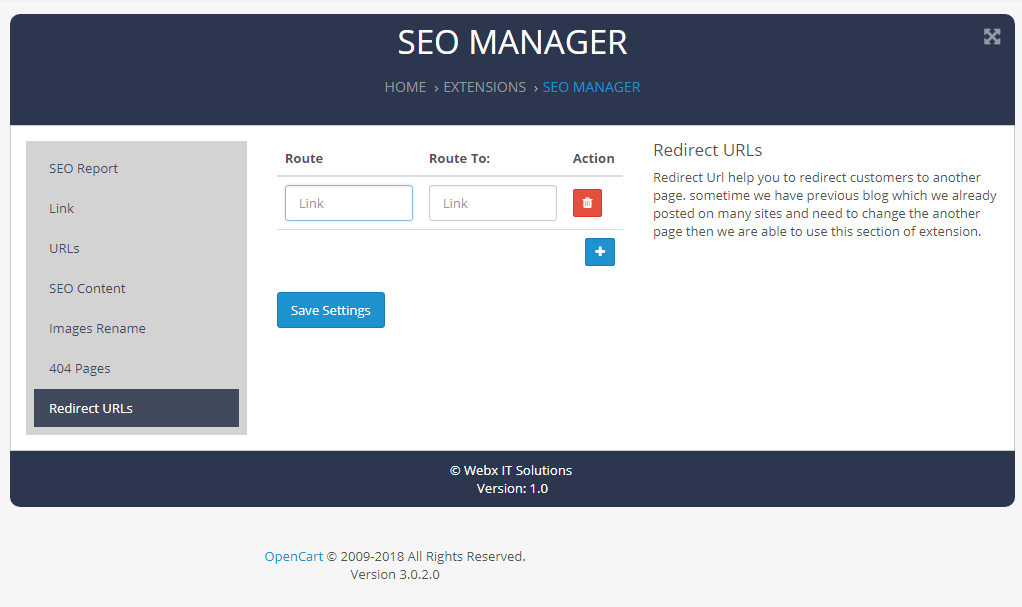 Need Help ?
We are happy to help you if you have any queries relating to this theme. You can contact us and Live chat with support desk Webx IT Solutions
Need Help ?
We are happy to help you if you have any queries relating to this theme. You can contact us and Live chat with support desk Webx IT Solutions